It's that time of year when many of us realize we are not prepared for year-end, which is just 60 days away. If you are starting to think about organizing 2016 financial information or being ready to start 2017 fresh and with a system, a great e-commerce bookkeeper can help you move forward quickly. What traits do you look for in finding that important member of your team?

Integrity: You need someone you can trust with your sensitive financial information. Don't leave it to chance. Check references, ask about how they screen their employees, find out about their systems for storing your passwords and make sure they will sign your nondisclosure agreement.

Communication Skills: Are you passionate about your products but not always confident in your skills around the financial systems and reports? When you talk with your prospective bookkeeper, ask questions about your financials to determine if their communication style will mesh with yours. They can help you learn more about your financial requirements and your financial reports.

Systems Thinking: Today bookkeeping is more than just debits and credits. It's about understanding workflows and ensuring that your technology solutions deliver the desired results. If up to date information is important for you, then you want to look for someone that utilizes cloud accounting and applications to give you nearly real-time data.

Data driven: Producing accurate financials is expected, but wouldn't it be great to have someone that looked at them with a critical eye and pointed out historical trends that could negatively impact the future? Understanding the relationship of the numbers on the reports and calling them to your attention, means you have one more member of your team helping you grow your business.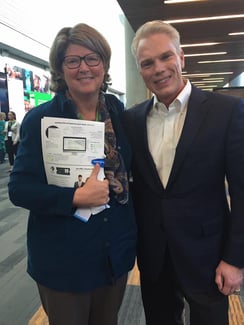 Eager to learn: The technology landscape is changing daily. I just attended Quickbooks Connect in San Jose. The upcoming enhancements within Quickbooks Online (QBO) were announced and include: a mileage tracker; voice commands, and the ability to teleconference with your accountant within QBO so you can screen share and review your data. There are many more improvements coming and many new applications introduced by third party developers. Your bookkeeper should be eager to embrace these time saving systems that bring you timely and better information for running your business.

On a final note re: preparing for year end. Be aware that the IRS made a new change in the 1099 Misc filing deadline. It is one month earlier this year, January 31, 2017, when you are reporting nonemployee compensation payments in box 7. If you are using independent contractors in the US, this may apply to you. If you want to file electronically, I'd like to recommend our favorite app for this purpose, Track1099.

Wishing you a great Q4 and a wonderful season of Thanksgiving!